Cheap Patio Sets – are There Any Good Ones?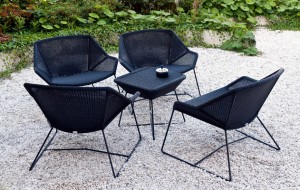 Are you shopping for a new patio set or round lounger? Most of us don't want to overspend on outdoor furniture, yet we know if we go too cheap, we'll end up having to throw our new purchase away – along with the money we spent on it.
What to Watch Out for in a Cheap Patio Set:
1. Comfort Counts
First of all, make sure you are getting something comfortable, so that you will enjoy using it. The more you use your outdoor patio furniture, the better investment you've made. You won't end up having to purchase a new set the following year because you are uncomfortable sitting in your old furniture.
2. Versatility Adds Value
Secondly, choose something versatile. By this I mean get an outdoor furniture set that you can use for lots of different activities. For example, furniture that you can use for eating, playing games, reading a book, sunbathing etc.. The more you use it, the more bang you get for your buck.
Alternatively, you might find better functionality in outdoor furniture sets that you can fold up and take on camping trips or to football tailgaters. This can also be a great benefit for easy winter storage, especially if you don't have a lot of extra storage space.
Another option is selecting indoor-outdoor furniture that you can use all year round. This is actually what I do with my all weather wicker outdoor furniture set. Essentially, I am getting 2 furniture sets for the price of one, which of course has saved me lots of money.
3. Quality Can Add Years to Your Investment
Third, look for high-quality materials that are durable. Examples of this are cushions made of UV-resistant fabric or that resist mildew. They are designed to stand up against sun and water damage and therefore last longer. Thus – you get more for your money.
Another example is a heavy-duty frame made of steel or lighter weight aluminum outdoor furniture that is specially painted so that it will not rust. This simple feature can surprisingly keep furniture looking new year after year as long as you hose it down every so often. You might be surprised at how durable cheap patio sets can be – you just need to look for key features such as these.
4. Ease-of-Use
Do the furniture pieces stay clean with minimal cleaning? Can you move them easily? Can you assemble them quickly? Sometimes these factors are overlooked by shoppers, because they may be distracted by the look, feel or price of the items.
However, outdoor patio furniture that take a lot of time to maintain and care for will wear on you. Extra work can end up backfiring on you. In turn, they can end up falling apart and looking like a horrible heap in your back yard.
By the way, don't shy away from assemble-yourself furniture. Most are fairly simple to put together, and you only need to do this once. Another benefit to this type of product is that it can save you money on shipping, or it's much easier to pick up at your local store, stick in your car and drive home.
To Wrap Up…
Cheaply priced outdoor furniture sets don't necessarily contain cheap materials. I've bought lots of outdoor sets that have surprised me. They have lasted through the years and still look great.