Update: The Orbit Lounger is currently sold out. However, I found a new round sun lounger with a deluxe wicker base. (Yet it still has an affordable price – check the different colors.)

In addition, you can remove and wash the cushion covers, something you couldn't do with the previous lounger. As a result, the cushions can look better and last longer. (Different colors available, too.)

Both ends lift up, and each side reclines separately, so you have lots of options as far as how you use your double lounge. Ultra versatile for 2 people, not to mention comfortable. =)

You can also buy this lounger on Amazon.com, but it costs about $130 more.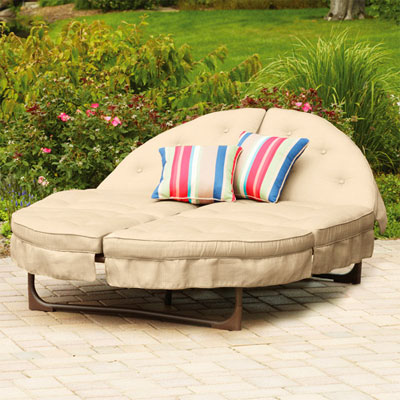 This is the Mainstays Crossman Orbit Chaise Lounge. The fabric is a light tan, and the chair seats 2 people. Of course, this lounge can also seat one person. You don't have to share it with anyone else.
In fact, you can spread everything out on your lounge and tell everyone else to keep off. For example, set out books, music, cocktails, snacks and a phone. Other people will be envious, of course.
I have been in love with the orbit lounger for years. At first, I was attracted to it because it was round and cool-looking.
Then, I realized that it was really inexpensive compared to other loungers – yet durable at the same time. I couldn't believe how many 5-star reviews I read on this low-cost product. I mean, you can find one-person chairs that cost more.
After researching lots of different chaise lounges and patio furniture for my back yard, I noticed even more benefits that the orbit chaise lounge had. For example, both ends tilt up. With most chaise lounge chairs, only one end is adjustable.
Working from Home Just Became a Lot Better!
Now because both ends tilt up, you can elevate one end to sit up AND elevate the other end to elevate your feet. This can be very comfortable for reading a book or working on a laptop computer. And yes, the orbit lounger makes a terrific home office. =)
By the way, if you are thinking about turning this luxurious piece of patio furniture into your home office, I don't blame you. You may want to take a look at the model that comes with the umbrella – it makes it easier to view many laptop and tablet screens.
Good Looking People on the Lounger
Alternatively, if two people are sharing the lounge, they can face each other rather than facing the same direction (if you want). This is especially nice of the other person is good looking.
The Mainstays Crossman Orbit Lounger for Sleeping Around?
Now this may be a stretch, but I think the Mainstays orbit lounger can also be turned into a really convenient (not to mention adjustable) guest bed. For a piece of furniture, it is fairly lightweight and therefore can be moved quite easily.
If you don't frequently have out-of-town visitors or you don't want to spend the extra money on a guest bed, let the orbit lounger come to your rescue and double as sleeping space for your overnight guests!
Check out the New outdoor lounge bed with white cushions. (An improved version of the Mainstays Crossman Orbit Lounger – and it's on sale!)