Where to Get Orbit Lounger Replacement Cushions…
Update March 15: Replacement cushions are currently out of stock. Courtyard Creations is the manufacturer of the cushions, and you may be able to order replacement cushions for the Orbit Lounger directly through them. Their phone number is 1-877-539-7436.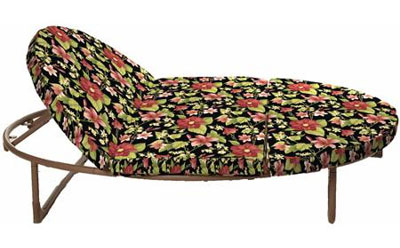 The Cushions Don't Last 100 Years
Guess what? Even though the orbit lounger cushions are made of water-repellant polyester, fade-resistant and UV-treated fabric, are mildew and stain resistant and contain 100% polyester fiber fill, they don't last forever.
I know, I know it's crazy.
But the even crazier part was that for a while it was really difficult to find replacement cushions – that of course were round.
The Wonderful News!
Now, that's not an issue. You can get them online, so now you don't have to replace your entire lounger or attempt to put square cushions on a round lounger.
Note: Replacement cushions come in a set of 6 (not one single cushion).
The No-So-Great News!
The replacement cushions are not as cheap as some people expect them to be. I mean, we get such a great deal on the entire package – why can't the cushions be super cheap as well?
That said, they are still cheaper than any double lounger cushions that I've seen. Plus, you're getting entirely new cushions – not just covers.
How to Care for Cushions so They Last Longer
Proper care of your orbit lounger cushions will also help them last longer. Keep them clean with a simple soap and water wash. Store the cushions indoors during the winter months or at least keep them out of harsh weather conditions.
Although the cushions include water-repellent coating an UV fabric protection, these can wear down over several years. You can use a fabric guard spray to help protect your cushions from the elements and therefore last longer. Amazon carries a high tech fabric guard that protects outdoor fabrics against water, dirt, grease and sun damage.
Answers to Common Questions:
1. Patterned cushions are patterned on both sides (not solid color on 1 side).
2. The company does not make replacement covers that have the dust ruffle around the outside.


>> Get Floral, Leaf or Stripe Cushions Here
>> Get Black Tropical Cushions Here
Orbit Lounger Replacement Cushions
Manufactured by: Mainstays Crossman
Price: $175-199, New
Product Number: 553861964
Model Number: GC06286B-D9W1